Team CNW….proud sponsor and participant in the Fred Hutch Obliteride!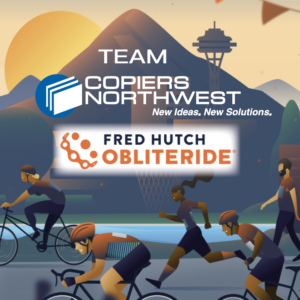 Copiers Northwest is proud to sponsor and participate in the Fred Hutch Obliteride event in Seattle on Saturday, August 13th! Obliteride is an unforgettable community fundraiser for Fred Hutchinson Cancer Center. People of all ages, abilities, and speeds will join up and take action to fuel lifesaving cancer research.
For the 3rd year, Team Copiers Northwest is excited to be participating in Obliteride. We pledge to "sweat it out" to raise money for lifesaving research. 100% of Participant-Raised Dollars Support Lifesaving Research at Fred Hutch!
From powerful advances to prevent and treat cancer, HIV, COVID-19 and other diseases to community partnerships that disrupt inequity and improve health, Obliteriders make a difference.
Contributions from supporters like us fuel this leading-edge research. Please donate today and join Team Copiers Northwest in putting cancer it its place: behind us. Visit: www.obliteride.com to donate to Team Copiers Northwest     Thank you for your support!