Signs it's time to upgrade your office equipment: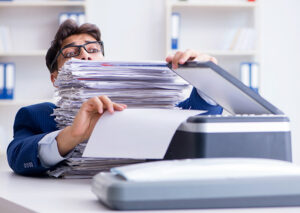 Human knowledge now doubles at a pace that makes it impossible to keep up without the latest technology. Whereas human knowledge doubling used to be measured in centuries, decades, and years, it's now being measured in months, and some say hours. The reason is obvious…technology. So, if you haven't upgraded your office technology in several years, you're falling behind your competitors. Here's a few more reasons it's time for an upgrade:
· Your Security May Be Compromised—Security should be at the forefront of every CEO's mind. If it's not, a ransomware attack could shut down a business or best case, severely reduce profits. Modern hardware and managed print solutions provide a suite of robust security tools such as file encryption and password protection.
· Energy Bills Are Soaring–Electricity bills can increase significantly and further reduce profits. Outdated and poorly functioning equipment consumes more power than the more energy-efficient and eco-friendly equipment currently on the market.
· Maintenance Costs Keep Rising— Your repair bills are more frequent and more expensive. If you find the cost of repairing and maintaining your office equipment keeps rising, it's definitely time to upgrade. Although new machines will require an investment, the cost will more than pay for itself with fewer repairs and less maintenance.
· Too Much Downtime—Both productivity and morale suffer when your office technology is down. Employees nowadays depend on technology to get their work done. When they can't, it means staying late and/or having someone go offsite to finish jobs.
· Your Business Has Outgrown Your Equipment—The good news is your business is growing. The bad news is you discover your office equipment is not up to the task.
If your office technology is holding you back, it's time to contact your Copiers Northwest representative and discuss your upgrade options.  Call us at 866-692-0700 or contact us  here: https://copiersnw.com/contact