Located on the Cowlitz Reservation in Ridgefield, Washington, ilani was developed by the Cowlitz Tribe and Salishan-Mohegan, and is the Pacific Northwest's premier gaming, dining, entertainment, and meeting destination. At nearly 400,000 total square feet, ilani includes 100,000 square feet of gaming space with nearly 3,000 slots and 75 gaming tables; 18 different restaurants, bars, and retail outlets; and a 2,500-seat meeting and entertainment venue hosting nationally recognized performances.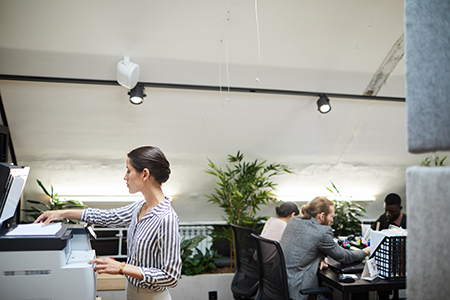 • Printers were spread out in several different areas, decreasing efficiency for employees
• Recommendations needed to help the resort run more efficiently and assist employees to be more productive
• Wanted a vendor that would embrace the concept of being a true partner and an extension of their team
• Needed a provider to analyze and understand their specific needs and could quickly implement an effective solution
• Solidified the partnership and moved printers to increase efficiency and replaced high service cost machines, which saved the resort money and aggravation
• Set up a new Managed Print Services contract which includes 50 HP printers and 14 Canon copiers under lease
• Provided special pricing that tribal agencies qualify for - saving 20% from previous vendor
• Recommended printing their benefit packages and marketing materials on light production equipment, which provided additional savings
• A Representative that is very responsive to questions and understands the resort's needs and printing environment
• Cost savings of 20%
• Automated toner replenishing, tracked metrics, first call resolution, and custom billing helps resort
• Reliable world class manufacturers in Canon and HP
• Fast Service Response
"We view our suppliers as partners and an extension of our team and not just vendors looking for a sale. Copiers Northwest had proven themselves at the opening of our resort by providing ilani resort with our fleet of printers and now helped us save significantly on our fleet of printers and copiers."
- Tom Teesdale, Vice President of Marketing, ilani Resort
BE MORE EFFICIENT AND MORE PROFITABLE
Ready To Be More Competitive In Your Industry?