The Seattle Kraken – Major League Hockey is Here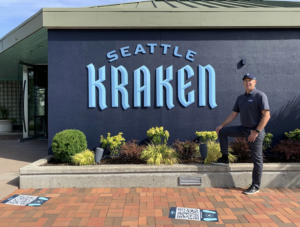 We are proud to welcome Seattle's newest team, the Seattle Kraken of the National Hockey League and wishes them success in their inaugural season and beyond. The Pacific Northwest has always been a huge supporter of youth, collegiate, and minor league hockey, so having our own NHL franchise is sure to be a treat for fans of all ages.
Playing in the Pacific Division of the Western Conference, the Kraken will face off against 31 teams across the country including, Anaheim, Calgary, Edmonton, Los Angeles, San Jose, Vancouver, and Vegas. The Kraken opens the 2021 season Tuesday, October 12 visiting the Vegas Golden Knights and hosts its first home game, Saturday, October 23 versus the Vancouver Canucks. See you at the next game! GO KRAKEN!!!