PrintSmart – Customer Friendly Process
Figuring out how much your company actually spends on office technology can be challenging. Service, supply costs, repairs, maintenance and depreciation can be hard to sort out of different budget line items.  Luckily, the experts in the industry have sorted it out. They've figured that office printing typically consumes around 3% of a company's annual revenue. Then, 30% of all of the calls to a IT or Help desk were printing related.
Color printing has been steadily increasing, which obviously increases cost. PrintSmart can allow you to bundle all of your document output devices onto one package, with one invoice, with a low cost-per-print and just one point of accountability.
PrintSmart can help free up your IT staff to work on more important duties instead of laboring away with fixing printers, network systems, and constantly purchasing toner cartridges.
Below is a diagram on how the PrintSmart system works: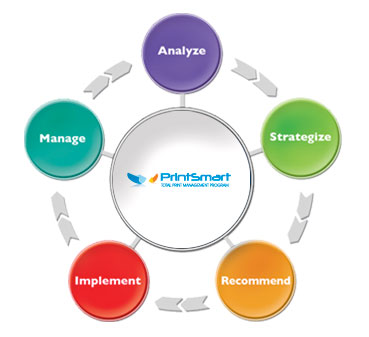 Stay tuned for more information on each step.