CNW Employees in the Community…Laurie Chapman, Board President, Center for Human Services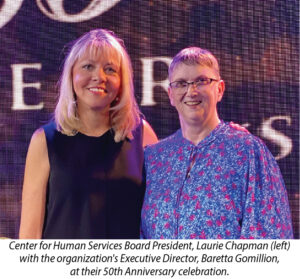 For over 50 years, the Center for Human Services (CHS), a not-for-profit social services agency, has served an extremely diverse community in North King County and South Snohomish County. CHS helps adults, youth and families…believing that the most critical element for strengthening a community is to support its members through preventive and responsive programs. This is accomplished by taking a counseling approach that is strengths-based, family-focused, client-centered, trauma-informed, culturally competent, and integrated with other services.
CHS currently has 140 staff members and serves over 3,000 clients annually. For over the past 20+ years, Copiers Northwest has been the office technology partner for CHS.  Laurie, a major account representative and legal specialist at Copiers Northwest,  joined the CHS Board in 2017. She served on CHS's Finance Committee for three years before becoming Board President and a member of the Executive Committee for the last two years.
Laurie has this to say about the organization and her role: "Working alongside our Executive Director, Beratta Gomillion, has been a fantastic experience for me. I'm passionate about the work this dedicated team of professionals provides to the underserved people in our community. It's also been my honor to work with fellow board members in fundraising activities throughout the year which includes our CHS Annual Fundraiser. It's been very rewarding to see CHS continue to grow and help more and more people in our community who desperately need the services they provide."
For more information regarding this amazing organization, visit https://www.chs-nw.org