Beware! Hackers Target Remote Workers!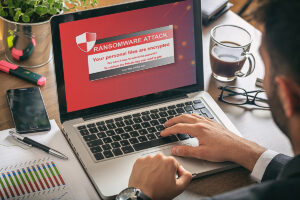 The workplace has undergone a fundamental shift. More employees are working from home than ever, and hackers are primed to capitalize on vulnerabilities. They know the situation has opened up gigantic security gaps that are easily exposed. But don't worry. With a few simple measures, you can keep the cybercriminals at bay.
Create a clear and concise security and data protection policy.
Ensure all remote employees use a secure internet connection, such as a VPN (virtual private network).
Use two-factor authentication to access devices.
Regularly update software programs and applications. Remember, software updates fix security flaws.
Train your employees on security best practices and how to spot phishing scams.
Don't download anything from untrusted sources.
W? Contact Copiers Northwest today. Your Copiers Northwest representative along with our Integrated Solutions Group (ISG) can help design an efficient document management solution to improve data security which includes Access Control, Encryption, Version Control, Workflow Automation, and protect your documents from destruction. Learn more about how a document management solution . Contact us today!