Enx Magazine Difference Makers: Making an Impact
NATIONAL PUBLICATION HONORS LATEST ACHIEVEMENTS BY BOTH PETRIES
For the second time in three years, both Mark Petrie and Gregg Petrie have been named Industry Difference Makers by ENX Magazine, a national publication that reports on the office technology industry. The announcement was made in the magazine's May edition.
Each year, ENX Magazine names selected individuals from the industry's manufacturer, dealer, and vendor community that have made a difference and had a positive impact on the office technology market. Individuals are not eligible in consecutive years.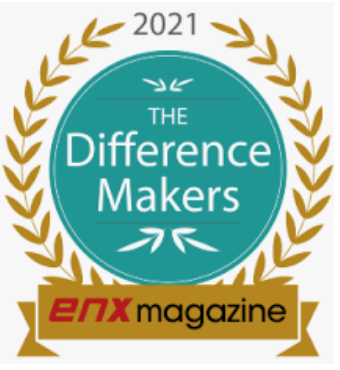 Mark and Gregg Petrie founded Copiers Northwest in 1986 and since then have grown the company to be one of the largest office technology dealerships in the USA with 12 locations throughout Washington, Oregon, and parts of Idaho.
The office technology industry was hit hard by the stay-at-home directives since so many office workers were working from home and not using printers, mfp's and other office technology products. Copiers Northwest was able to pivot and offer specials to customers for products that could be used at home and keep their employees productive. They also added a line of temperature screening kiosks for customers considered essential businesses and those who were preparing to re-open.
"It goes without saying that this past year has been one of the most challenging in our 35 year history," said Copiers Northwest's President, Gregg Petrie. "However, Mark and I believe we came out of it stronger by adding new products and services. Plus, our salespeople learned to adapt and utilize different methods of marketing and meeting with customers and prospects."
About Copiers Northwest
Mark Petrie and Gregg Petrie founded Copiers Northwest in 1986. From its roots in Seattle, the company has grown to over 200 employees with offices in Washington's Tri-Cities, Tacoma, Olympia, Moses Lake, Yakima, Bellingham and Spokane and Oregon offices in Portland, Salem, and Bend. Copiers Northwest's business includes the sales and service of copiers, printers, wide format plotters, UV Flatbed Printers, document storage and retrieval products and software solutions that help customers be more productive and competitive within their industry. Manufacturers represented by Copiers Northwest now include Canon, Sharp, Océ, HP, Nextiva and more.
About ENX Magazine
ENX Magazine is a monthly publication dedicated to the document technology industry since 1994. Now in its 27th year, ENX Magazine continues to deliver exclusive editorial coverage on market opportunities and issues, news and trends, company profiles, new products, and industry insights through interviews with key players in all segments of the document technology industry. With a circulation of more than 28,000 hard copies, ENX Magazine is the leading integrated resource that brings together industry people, products, and business concepts and strategies for document technology industry professionals.
Read more about Difference Makers in ENX Magazine.