Computer Security Tips while Working from Home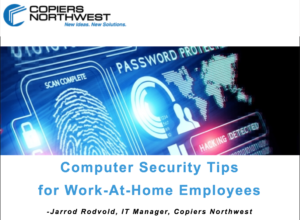 One industry ramping up during our nation's COVID-19 crisis is criminal hackers preying on the multitude of employees working at home. At Copiers Northwest, we have always taken computer and network security very seriously. We've led the way in providing our customers with solutions to keep their data secure, such as information shared at our Copiers Northwest/HP event at Chihuly Gardens last year. This event featured renowned white hat hacker Michael Calce (MafiaBoy) who shared his unique perspective on how hackers target vulnerable companies whose infrastructure is not secure.
Copiers Northwest's IT staff has provided company-built laptops for our employees working from home which have anti-virus, remote maintenance capabilities, BitLocker drive encryption, data backup and direct access to our Copiers Northwest domain using Multi-Factor Authentication (MFA). If your company has not provided your
stay-at-home workers secure company-issued products, here are some tips to maintain security for both employees and your company network.
Beware of Hackers—With more employees working from home, there is an increase in hacking and phishing scams. Pay attention to the full email address where the email originated from, since we have detected a lot of email address spoofing. You may see a legitimate name when receiving an email, but when you look at the entire address, it will not look anything like the real one. Traditionally, a recipient must open an attachment to launch a virus. However, be careful hovering on an image in the body of the email since clicking on it could result in a similar action as opening an attachment.
Passwords are critical to protecting your computer and your company's network.
They should be complex and changed frequently. It is not unusual in the tech industry to have passwords exceeding 20 random characters. Do not use passwords that can easily be deciphered by hackers such as pet/relative names or important dates in
your life.
Protect Home WiFi—Prevent neighbors from using your wi-fi. Make sure you change the default password that came with your router. Hackers, even neighbors, can easily look it up and access your home network, thus making it vulnerable.
Prevent Viruses—First of all, be certain all your data is backed up to the cloud, such Microsoft's OneDrive. Then, make sure that your anti-virus software is updated. AVG is a good one, and it is free! If you do get a virus, immediately turn off your Wi-Fi and run a virus scan. Your desktop or laptop will then need to be wiped clean – which is why it is important to have all data backed up.
Overall Security—Network security should be at the forefront for all businesses, especially the small to medium size businesses (SMB). These businesses are ripe for attacks from hackers using ransomware, a type of malware that encrypts or locks valuable digital files then demands a ransom to release them. Many companies now have two IT departments: one for the traditional break/fix functions and another for third party vendors – focused on full-time security.
Multi-Factor Authentication–Multi-Factor Authentication (MFA) is a security system that verifies a user's identity by requiring multiple credentials. Rather than just asking for a username and password, MFA requires additional credentials, such as a code from the user's smartphone, the answer to a security question, a fingerprint, or facial recognition. MFA is an effective way to provide enhanced security.
Traditional usernames and passwords can be stolen, and they have become increasingly more vulnerable to hackers. With multiple layers of security, a cybercriminal may steal one credential but will be thwarted by having to verify identity in a different manner.
Keeping your data safe is always a top priority for all of us at Copiers Northwest as your Local Business Partner. If there is anything you are having trouble with, please reach out to us and we are happy to help you find a solution. Take care!