CNW employee by day…horse rescuer by night!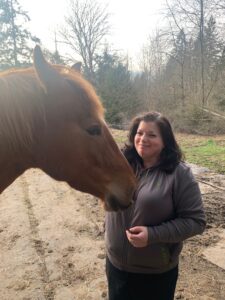 The Rolling Stones in their classic, Wild Horses, sang, "wild horses couldn't drag me away." The song may not have been about Copiers Northwest employee, Jennifer Mecum, but it certainly applies to our Print Center staff member. She says she did not set out to rescue horses and take care of them into their old age…but that is exactly what happened.
Jennifer, who works in Copiers Northwest's Print Center in prepress and print production, takes care of four horses, but due to various conditions, is only able to ride one. She has a 30-year-old horse that has had ulcers since age 12 and requires a special senior feed. Another has allergies and asthma and has a special hay diet (she steams the hay before feeding time to remove dust). Her other two horses were previously wild mustangs that roamed Eastern Oregon reservation land and land owned by the Bureau of Land Management. The first one she obtained had a broken shoulder and limps, but according to Jennifer, is the friendliest horse she's been around. The fourth is the one she's still able to ride.
"These horses have become part of my family and they deserve a good quality of life," says Jennifer. "Whenever I drive up to the barn, they run out to greet me."
For others looking to rescue horses, there are several local organizations including S.A.F.E., an acronym for Save A Forgotten Equine (www.safehorses.org). For kids, there's organizations such as 4-H clubs (www.4-h.org).