ENX Magazine reveals 2022 Elite Dealers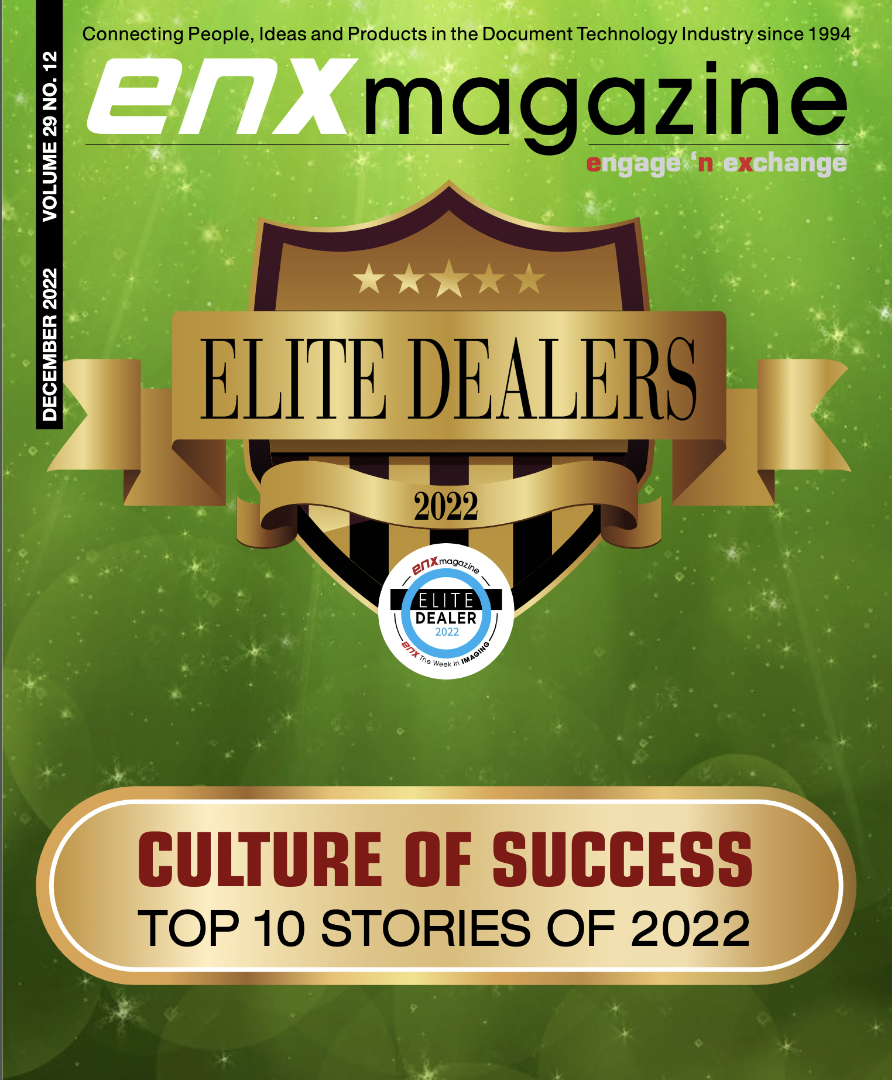 Copiers Northwest continued its consecutive string of being named an Elite Dealer by ENX Magazine, a trade publication that monitors and reports on the office technology industry and honors the USA's premier dealers each year. By receiving the prestigious 2022 Elite Dealer designation, Copiers Northwest is one of a handful of dealers that has received the honor annually.
Copiers Northwest was honored in the $50-$100 million category, a level that is extremely exclusive for dealers nationwide. According to Copiers Northwest's president and co-founder, Gregg Petrie, the 2022 Elite Dealer honor is a tribute to the 200-plus employees, their ongoing customer service focus and the innovative solutions that help customers get more out of their technology products.
"I'm extremely proud of our employees throughout our 12 Pacific Northwest locations during another challenging year for businesses," said Petrie. "Our people continue to post phenomenal Net Promoter Scores month in and month out which is a true measure of our customers' satisfaction since it places Copiers Northwest in the World Class service category. We even had consecutive months of perfect 100 scores."
"Congratulations on being selected as a 2022 Elite Dealer by ENX Magazine – once again. We're truly proud of being able to recognize Copiers Northwest among this resilient community of Elite Dealers in these challenging times," said Susan Niemes, Publisher/Managing Editor of ENX Magazine. "Cheers to your continued success!"
Click here to view magazine article:  https://www.enxmag.com/twii/flip-book/2022/12/enx-december2022/
About Copiers Northwest
Mark Petrie and Gregg Petrie founded Copiers Northwest in 1986. From its roots in Seattle, the company has grown to over 200 employees with offices in Washington's Seattle, Tacoma, Olympia, Moses Lake, Yakima, Tri-Cities, Bellingham and Spokane and locations in Oregon in Portland, Salem, Bend and Eugene. Copiers Northwest's business includes the sales and service of office technology products including copiers, multifunction printers (MFPs), printers, wide format plotters, UV Flatbed Printers, document storage and retrieval products, temperature screening kiosks, VoIP telephony products and innovative software solutions that help customers be more productive and competitive within their industry. Manufacturers represented by Copiers Northwest now include Canon, Sharp, HP, Lexmark, Nextiva and more.
About ENX Magazine
ENX Magazine is a monthly publication dedicated to the document technology industry since 1994. Now in its 28th year, ENX Magazine continues to deliver exclusive editorial coverage on market opportunities and issues, news and trends, company profiles, new products, and industry insights through interviews with key players in all segments of the document technology industry. With a circulation of more than 28,000 hard copies, ENX Magazine is the leading integrated resource that brings together industry people, products, and business concepts and strategies for document technology industry professionals