Who's Watching Your Assets?
As we've discussed, most businesses have no idea how much they actually spend on office printing. That's because the majority of related expenditures (device acquisition, depreciation, supplies, maintenance, repairs, Help Desk, etc.) are buried in multiple budget line items and not easily discovered. But given that office printing costs can represent nearly 6% of operational expenditures,[1] it's clearly time to wake up and smell the toner.
Not to worry, there is need to go it alone. PrintSmart is an easy and affordable way to put Copiers Northwest's managed print services expertise to work for your business. With PrintSmart, we deal with all of your devices. You deal with one invoice, one low cost per print and one point of accountability. Even better, PrintSmart frees up IT staff to focus on more important tasks than trouble-shooting and fixing printers.
Here's a quick look at the PrintSmart process…. followed by a brief description of what you can expect every step of the way.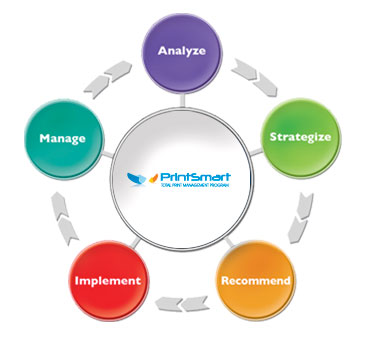 Analyze — we perform a comprehensive evaluation of your company's current printing environment.
Strategize — we gather TCO and usage data reports.
Recommend — we work with you to develop an action plan that helps you make the most of existing investments.
Implement — we provide you with installation and consultation as needed to optimize printing operations.
Manage —we keep you and your environment up-to-speed with ongoing analysis and consultation as needed.
For more details about PrintSmart, visit the website here. Or contact us at 866.692.0700 to talk specifics about what PrintSmart can do for your organization.
---