Saving Money Using Monochrome
Are you in the Government, Education, Accounting or Healthcare sector? If so, Listen Up!
A typical office color printer that prints 2,000 pages/month in monochrome at 3 cents/page, and 2,000 pages/month in color at 8 cents/page, would cost $220 per month.
A typical office monochrome printer that prints 4,000 pages/month at 3 cents/page would cost $120 per month. That's $100 less per printer, per month.
Not every business needs to print in color, and the cheaper yet just as effective alternative is monochrome. Monochrome printing is faster than inkjets and cheaper than color lasers and print pristine, sharp looking text. The toner unit lasts a long time, operation.printing noise is quieter and smudge-proof with better looking black and white printouts.

If you are only ever printing letters, invoices, bills, receipts or essays, then why pay the premium for color laser or business inkjet. The cost of consumables (toner) to operate a monochrome device is exponentially less expensive than for a color printer. You will only need one monochrome toner cartridge VS four color cartridges, making it easier to change out once depleted.
Another great aspect is both the printers and print cartridges can be recycled for future use and avoid landfill.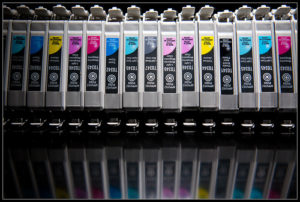 Monochrome printers also tend to have less service issues and fewer quality fluctuations requiring service calls, keeping your money in your pocket!
So if you are in the market for printers and aren't sureif you need color or just black and white, consider your printing needs before purchasing, as you might just save yourself a boatload of money!
Contact 206-282-1200 to speak to a Copiers Northwest Representative today.