Happy Anniversary Seattle Monorail!
Did you hear, the Seattle Monorail turns 50 this year!
Having just celebrated our 25th, we'd like to say – we'll always be younger! But you are aging quite gracefully our little one mile long neighbor.
In celebration of the Golden Anniversary, visit the Monorail's website and watch the video of "Fun Facts" they've put together.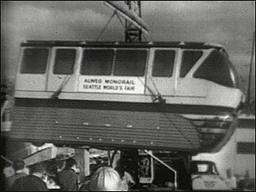 Can you tell us how much it originally cost to build the Seattle Monorail?
How much did it originally cost to ride the Seattle Monorail?
Can you name a superstar who rode it?