A Simple Solution…Never run out of toner!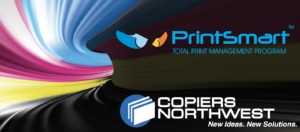 POTENTIAL SCENARIO
You have a huge printing job, and everything is right on schedule. However, halfway through you run out of toner. You, or a fellow employee, now has to run out to the office supply store and hope they have your brand in stock. The momentum is gone. Now you're behind schedule and employee morale is down.
SIMPLE SOLUTION
Copiers Northwest's innovative managed print services offering, PrintSmart, makes us accountable for toner replenishment and means you'll never run out again. With PrintSmart, Copiers Northwest manages your entire fleet of printers, copiers, and MFPs and removes that burden from your staff and your IT personnel. That's because we take care of all preventative maintenance, and emergency service calls and through our remote monitoring system, we make sure you always have the correct toner on hand. PrintSmart, one low cost per print, simplified billing, and peace of mind for you.
Ask your Copiers Northwest representative about the benefits of PrintSmart and how it can make your life easier.